Private: Store
[vc_row][vc_column][vc_column_text]
Teaching Swimming: Fun and Effective Instruction

Swimming Ideas' latest training workbook for new and veteran swimming instructors and coaches.
Teaching swimming lessons and running a swim team can be difficult. There are so many variables and things to consider when you're teaching.
You might have ten children in the water or five adults. Knowing how to communicate, which skills to work on, and how to follow an effective incremental progression is hard.
Swimming Ideas is here to help.I've trained hundreds of new staff how to swim, and have compiled a long list of skills, terms, and techniques to make swimming instruction more effective in a new teacher's hands.
Want to teach your 16-year-old novice how to teach a swim lesson so you aren't cringing and biting your nails as you watch? Give them this book, and use the general lesson plans in the back. Not sure how you describe the nuance and importance of using command language in your classes?
Use this training workbook and discuss how to be a better communicator. Did you just hire a swim instructor that has never taught a lesson before and doesn't even know what a front glide is?
Maybe they've never heard of streamline. Give them a copy of this training workbook and they'll learn the 15 essential swim skills and how to teach them.
From language, scripts, pictures, and guides, this training guide has it all.
General Lesson Plans; Level specific one-sheets
A single one-sheet for each of Swimming Ideas' four levels. A comprehensive sheet with a sample lesson on the reverse for each level.
Listen to Podcast episode 071 for an in-depth explanation.
[smart_track_player url="http://traffic.libsyn.com/swimmingideas/SIP_071.mp3″ title="SIP 071: Activity, Activity, Challenge" artist="Swimming Ideas" ]
Digital General lesson plan one-sheets $9.99
[gumroad id="JjFTX" text="Buy digital one-sheet general plans" button="true" type="overlay"]
---
Lesson plans, and skill sheets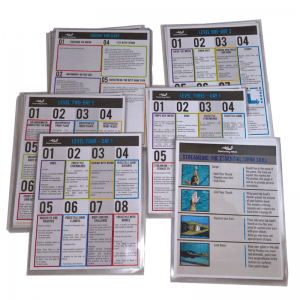 Digital Only $39.99:
[gumroad id="digitalswimplans" text="Buy digital lesson plans and skill sheets" button="true" type="overlay"]
Physical Only $59.99 + shipping:
[gumroad id="Bjwt" text="Buy physical lesson plans and skill sheets" button="true" type="overlay"]
Give your staff an easy to read guide to teach swimming with minimal training.
Your instructors will find them easy to read and follow their color coded and numbered plans. Each activity and game is explained in detail. We provide songs with lyrics, skills with pictures, descriptions, and instructions on how to teach each essential swimming skill. The lesson plans have detailed songs, games, lyrics, guides built right into their color coded awesomeness.
Lesson Plans in Swim Program Starter Kit:
Swim America Lesson Plans: 10 Stations, 14 sheets
6 Days of Parent Tot classes
4 Days of Level One
8 Days of Level Two
4 Days of Level Three
4 Days of Level Four
11 Visual Swimming Skill Sheets: Streamline, position 11, Supported and unsupported front glides, supported and unsupported back glides, Breaststroke arms, breaststroke kick, breaststroke drills, and breaststroke progression.
Better swim lessons
Have you ever thought to yourself:
"I just wanted to make my swim lesson program better?"
There is an easy way to improve your swim lessons in almost every facet: provide your staff with easy to use effective swim lesson plans.
That might be daunting, but there is help.
What makes a great lesson plan?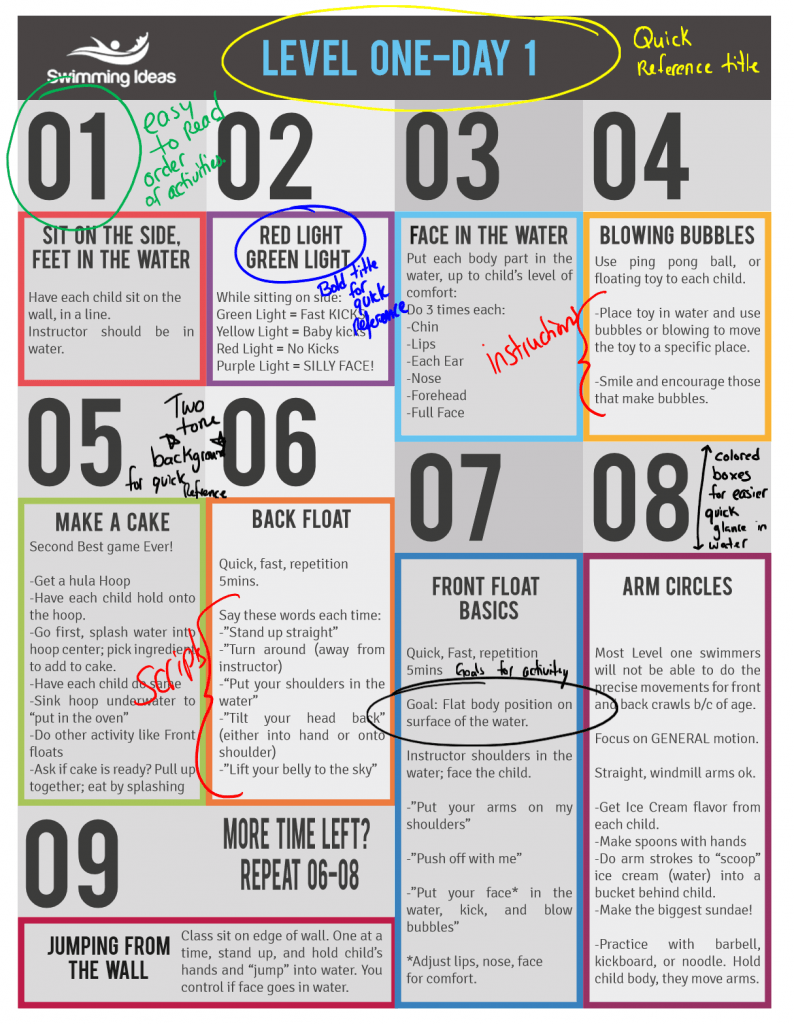 The picture above is a little breakdown of the lesson plans. It shows some notes about why we designed it this way. Aside from being pretty, there are some extremely functional reasons for its format.
There is a solid black bar across the top with the level and day of lessons labeled. This is so you can quickly reference each lesson plan by level and difficulty. At a quick glance you can look at your folder or binder and access a lesson plan for a level 4 or a level 1 with ease. Want a little more complicated level 3? Grab day 3 or day 4.
We use the lesson plans in 45 minute classes, but they were originally designed for 30 minute classes where you may or may not complete everything. Large numbers on the lesson plan show you what the optimal order is for the day's activities. Lessons get progressively more difficult as you go on; day 1's are easier than day 4s.
Colored boxes under each activity make it easier to read in the instructions while you're in the water. You don't want your instructors in the water distracted and forgetting where they last glanced. The boxed color also wont' destroy your ink supply.
Each activity is dense with concise information required to accomplish the task. Activities include scripts, lyrics, goals, instructions, and progressions within the text below the activity name. These are intended as a teaching tool for beginners to lean on and a guidepost or refresher for veteran staff.
---
Online Management: Lesson Programs and Swim teams
https://youtu.be/bh5Dj3m-vmc
Everyone has a different system for tracking their students and their progress. I personally hate paper and want to make the whole keeping up with the data easy.
An active subscription allows you to log in and use our database framework for your whole program. Unlimited users and data. Let multiple managers access at an admin level, or restrict users by job role: Coach, Swim Instructor, Private Instructor, or Lifeguard.
Parents can log into their own accounts (if you want them to) and can see their swimmer's progress.
Do all of these:
Schedule classes
Take attendance
Update rosters
Track skills and progress
Send email report cards for end of session reviews with comments
Access past report cards with a search
Schedule make-up classes.
Write notes specific to each swimmer
Schedule and conduct tryouts for your swim team
Track attendance for swim team
Assign points for different events
Give points for swim team activities
Track private lessons for staff and record for pay roll turn in
Track staff
Subscribe now, $9.99/month
[gumroad id="QuDj" text="Subscribe for Online Swim Management now" button="true" type="overlay"]
---
Trello.com board access to swim lesson plans and developmental swim practices.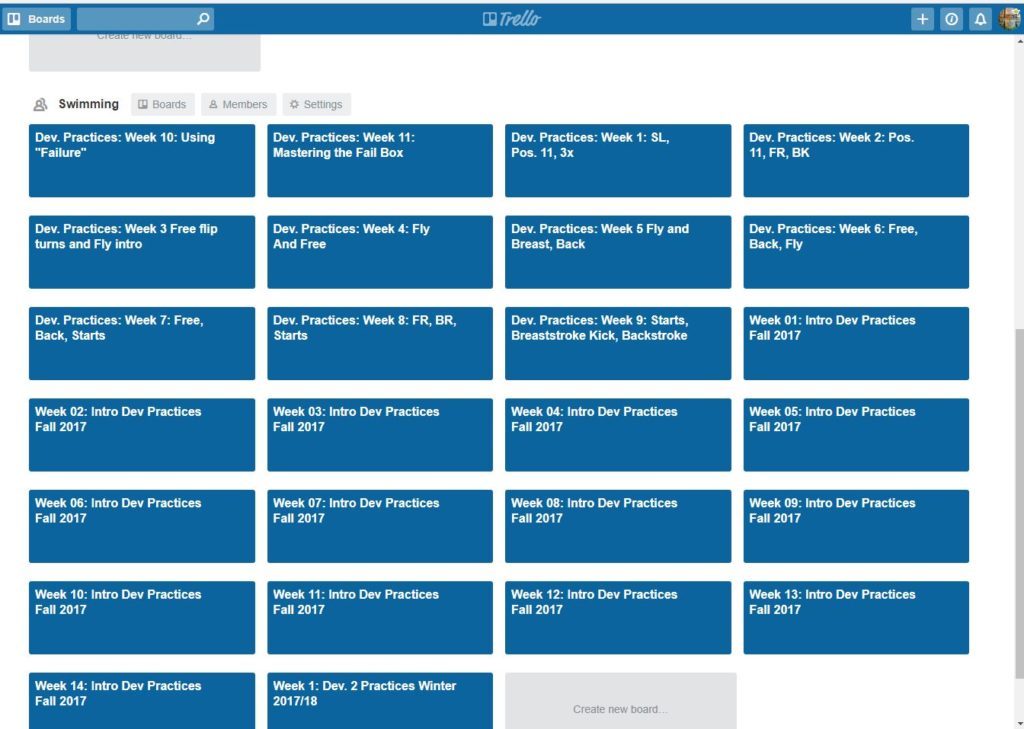 Every week we update a new board on Trello.com. Start with the first 11 weeks from Spring and Summer 2017. You can immediately get access to 11 weeks of swim practices. Each week has 4 days of practices. You can see our master list of activities: this is literally every thing we have done at swim practice. I update the master list each week with new games, activities, sets, and scripts.
Check out a sample here: https://trello.com/b/3cT48sMp
I use Trello.com to track practices and skills for a number of reasons. I can upload pictures, videos, and categorize by activity. I can easily drag and drop activities in from the master skill list, and can quickly plan out my practice plans. Trello is great for you because you can get all the benefits of the team viewing experience. You can navigate through the platform easily, and you can see all the skills and activities we use! Want to copy the board and mix and match it for your own activities; do it!
Draw from a huge bank of swim skills and follow the exact practices we do with our own USA Swimming competitive developmental team. Swimmers that have gone through this program have won state championships, gone to Junior Nationals, and started their competitive career with essential habits already in place.
You get unfettered access to run your swim program better.
As of Winter 2017-2018 we've started adding in "Coaches Challenges." These are two to three things designed to get you out of your routine, to move you towards better interactions with your swimmers, and to make you better at teaching.
I have a lot of new assistant coaches this year, and I wanted to develop a way to get them engaged faster than typical; often I let new people just listen for a couple of weeks absorbing the material and flow. The assistant coaches that I have now are familiar with swimming: they know the strokes, how to do do them, and how to swim. I coached them! They don't know how to be effective and fun coaches though. These "coaches challenges" are foremost designed to improve their ability to teach swimming well. Secondary, they are fun and interesting challenges for us on deck to get a fresh perspective. Join in the fun, join in the challenge, and do our Coaches Challenges with us!


https://youtu.be/9d7HzgECGGk
Subscribe now, $9.99/mo
[gumroad id="practices" text="Subscribe for Developmental Swim Practices now" button="true" type="overlay"][/vc_column_text][/vc_column][/vc_row]